Meet The Facilitators
The volunteers who make this program possible!

Bernice Ng was born and raised in New York City and studied at Clark University. She speaks Cantonese. Some of her interests include: volunteering, photography, web design, event planning, learning new languages, and sports such as volleyball, handball, softball and tennis. She currently works as a Production Assistant at FAB/Starpoint. She joined CPA as a Starting Line Youth Program mentor in October 2010 and has been a Shared Stories volunteer/facilitator since January 2011.

Bernice's all-time favorite player is Bernie Williams of the New York Yankees and her dream is to meet him one day, get an autograph and have a chat with him.

---
"Be who you are and say what you feel, because those who mind don't matter and those who matter don't mind." - Dr. Seuss

A proud native of Hong Kong, Jeffrey Louie grew up in Brooklyn and is a minimalist at heart. He is a third year design student at the City College of New York, and is constantly seeking to bridge design with social change. He enjoys working with youth, taking long meandering walks, and meticulously examining the typography around him.

---
Jennifer Lau is a native New Yorker born and raised in Queens. Although she is a proud Queens girl, she considers Chinatown, Manhattan to be her second home. Currently studying at New York University, she hopes to use her studies in bringing increased cultural awareness and appreciation across borders, and to start dialogue on often taboo topics in the Chinese American community.

Jennifer is currently working at the Charles B. Wang Community Health Center, where she facilitates and develops community events and programs for youth. When she's not working and studying, she can be easily spotted doing yoga at St. Marks, finding cheap eats in Chinatown, or walking endlessly in search of the best iced green tea.

---
Lauren Moffett is a rare gem: a native Manhattanite! Her love of languages and travel itch have taken her to visit numerous places, starting first in Los Angeles to earn her B.A. in Chinese and Spanish at Occidental College, and then to Taiwan to practice Mandarin at many a night market food stand.

Lauren currently works as an administrator of international programs that promote Chinese language education in the U.S. while also pursuing a Master's degree and certification for teaching at New York University. She joined CPA in March 2010 as an ESL teacher and has been a Shared Stories volunteer since June 2011.

---
A native New Yorker, Linda Shum was born in Chinatown and raised in Flushing. Linda left New York to attend Wesleyan University in Connecticut, where she pursued a B.A in East Asian Studies and studied Japanese and Asian literature. Prior to graduation, she spent a year living and studying abroad in Kyoto, Japan.

Linda currently works in a NYC charter school as a Development and Communications Assistant. When not in the office or volunteering, she loves spending her free time cooking and talking to bright, young people. Linda joined CPA in December of 2010.
---
Theresa Zhen was born and raised in Manhattan, Chinatown. She is an avid explorer and researcher of Chinatowns in New York and across the country. She is currently a law student and is committed to social justice for the immigrant community in Chinatown.

---
© 2013 Shared Stories. All Rights Reserved.
Powered by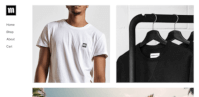 Create your own unique website with customizable templates.